Recorder Karate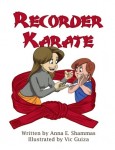 Anna's passion for writing continues to be seen in Recorder Karate. This story about "never giving up" and "go for my dreams" is what Anna has learned when practicing the recorder in her music class. Similar to becoming a black belt master in karate, training hard and building skills one step at a time are necessary for success. This charming and colorful story is exquisitely illustrated by the renowned Victor Guiza and is joyful and fun to read for all children.
Available as Paperback ($8.95) on Amazon and Barnes and Nobles
Also Available as eBook ($ 2.99) on Amazon Kindle, Barnes and Noble NOOK and Apple's iBookstore.