Authors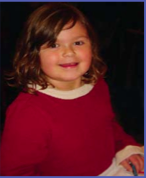 Anna E. Shammas,
is a very young author with a passion to write. At the age of 5, she wrote her first story, Very Snowy, which was initially published by AuthorHouse. Very Snowy was a sensational story about a little girl named Anna who loved Christmas, snow, ice skating, hot chocolate and, above all, Teddy bears.
In Winter 2008, Anna became the youngest author to join the Midwest Writing Center after being invited for book signing and reading from her first book. She was featured on local TV and newspapers across the Quad-Cities, where she resides with her mother, father and two brothers.
Anna's writings took another leap forward with three additional stories at the age of 6: The Star That is An Angel, Imagine! and The Fan That Does Not Stop Turning. These stories display the rich imagination, poetry and story-telling abilities that Anna possesses at this very young age. At the age of 7 she published her fifth illustrated book Picture Day and at the age of 8, her only photo book My Great Family Vacation. Recently, Anna released the Mystery of the Haunted House  and Recorder Karate, 2 books illustrated by Disney and Award-winning illustrator, Vic Guiza. Likely to be one of the most prolific writer at the age of 11 with 8 published children's books, Anna is a proof that age is not a hindrance to imagination, creativity and talent.